San Diego SCCA Track & Time Attack May 20-21, 2023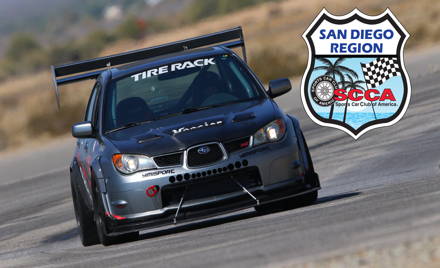 SCCA - San Diego Region - Solo
Saturday, May 20 — Sunday, May 21, 2023
Chuckwalla Valley Raceway
,
Desert Center

,

CA
Registration closed May 21, 2023 11:59 PM at 2023-05-21T23:59:00-0700 Registration ends May 21, 2023 11:59 PM at 2023-05-21T23:59:00-0700 Registration opens March 19, 2023 12:00 AM at 2023-03-19T00:00:00-0700 Registration runs from March 19, 2023 12:00 AM to May 21, 2023 11:59 PM
San Diego SCCA Track Day / Time Attack
at Chuckwalla Valley Raceway

May 20th Saturday (CW) - Track Day / Time Attack
Max 15 Driver Entries (not counting co-drivers) Per Run Group

May 21th Sunday (CCW) - Track Day / Time Attack
Max 15 Driver Entry (not counting co-drivers) Per Run Group

(Sign up for one or both days, 2-day entry gets a discount!)
A full weekend of high performance driving! $200 for either single day or $350 for the weekend, four run sessions per day. Co-drivers (this is a shared entry with an already registered participant - same group / same car) $75.

Additionally on both days, we'll be running a free Time Attack event. This event will run alongside the Track Day, so participation is optional (but encouraged). The Time Attack event allows you to record a time in a specific class. The same basic set of track day rules apply, the only trick is it's on you to find enough free space to set a best lap time. More information on the classes and format can be found here: https://sdrscca.com/timeattack/. BYOTD (Bring your own timing device), we allow any GPS based timing system so long as it can be shown to the timing staff as you come off track of a timed session.

Passengers...yes, we are allowing passengers. This is being handled by having these participants pay a nominal fee ($20) to cover insurance and administration costs. Passengers must also already be an annual SCCA member or purchase a weekend SCCA membership for $15 (handled during registration).

SCCA Membership (but not an SCCA license) is required, weekend memberships are available for $15 during registration (this $15 can be used towards an annual membership at a later date - for assistance with procuring an annual membership please email us at info@sdrscca.com).
SCCA Track Days provide an environment for drivers who simply want to increase the enjoyment of driving their vehicle. For most drivers all it takes to be a part is your safe street car, a valid driver's license, and an approved helmet.

That's it. The goal is to give you a thrilling experience and stories to share, all from an environment which gives everyone a level to feel comfortable. It is not to give a high pressure experience and high stakes of "winning." Track Days are not races - any on-track passes are limited to specific passing zones, and only with a signal known as a "point-by."
You will receive some instruction while you're there. That instruction comes in the form of how to safely enjoy the experience rather than how to drive at the limit. Think etiquette, track rules and awareness, how to properly enter and exit the track, learn a driving line, passing zones, and general techniques, which will help the day go smoothly and give you the tools to advance from novice to intermediate or advanced groupings.
The schedule may be adjusted closer to the event date as we balance our entires and run groups, but there will be four run sessions per group. We expect registration and drivers meetings between 7:30 AM and 8:15AM, first cars out between 8:30 AM and 9:00AM, finishing by 4:00PM, but is subject to change.

Run Group Structure:
Summer change: Registration will be open from 6:45am-7:30am. First car out at 8:15am.
Novice: Generally 0-2 days track experience, or anyone with more experience but not yet as comfortable on track. Session includes lead-follow familiarization lap in first session to familiarize with the track/safety protocol and session by session instructor meetings to help with questions and feedback throughout the event. Point by passing based on group progression, generally front and back straight.
Early-Intermediate: Generally 2-4 days track experience, or anyone with more experience but not yet as comfortable on track. Point-by passing on front and back straights.
Intermediate: Generally 4-10 days track experience. Point-by passing on all straights.
Advanced: Generally 10+ days track experience. Point-by passing still mandatory, but may be taken anywhere on track. (For Advanced, you must be able to complete a lap at 2m 10s or better in either direction.)
Event Amenities:
Hotel / Lodging: On-site cabins are by far the easiest - Website: Cabins — Chuckwalla Valley Raceway. Track side camping is allowed (RV, Tent, Back of your truck). RV Power hookups are available for electrical as well as black / gray water dumping (there are fees for hookups and dumping, please contact the track to get these rates). Indio is the closest town with hotels approximately 50 minutes away.
Food / Concessions: The track does sell hot breakfast and lunches with drinks at the track.
Photography: CaliPhotography will be on-site to take professional photos and slo-mo video throughout the weekend! Robert Glaze (Email: cvrlorax@gmail.com or Instagram: @cvr_lorax) always recommends planning ahead. Pre-purchasing before the weekend or before the start of each day will guarantee priority shots (and more of them).
Other raceway amenities or track information can be obtained here: Track Info — Chuckwalla Valley Raceway