San Diego SCCA TRACK WEEKEND April 24-25, 2021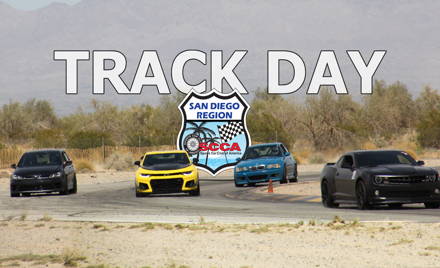 SCCA - San Diego Region - Solo
Saturday, Apr 24 — Sunday, Apr 25, 2021
Chuckwalla Valley Raceway
,
Desert Center

,

CA
Registration closed April 24, 2021 11:59 PM at 2021-04-24T23:59:00-0700 Registration ends April 24, 2021 11:59 PM at 2021-04-24T23:59:00-0700 Registration opens February 15, 2021 6:00 PM at 2021-02-15T18:00:00-0800 Registration runs from February 15, 2021 6:00 PM to April 24, 2021 11:59 PM
San Diego Region SCCA Track Day Weekend
Chuckwalla Valley Raceway
Saturday(CCW) and Sunday(CW)
April 24th and 25th, 2021
Max 75 Driver Entry (5 groups of 15 drivers) per day (not counting co-drivers)
Only registered drivers may be passengers at this event
A full weekend of high performance driving! $170 for either single day or $300 for the weekend, four run sessions per day.
Track Days provide an environment for drivers who simply want to increase the enjoyment of driving their vehicle. For most drivers all it takes to be a part is your safe street car, a valid driver's license, and an approved helmet.

That's it. The goal is to give you a thrilling experience and stories to share, all from an environment which gives everyone a level to feel comfortable. It is not to give a high pressure experience and high stakes of "winning." Track Days are not races - any on-track passes are limited to specific passing zones, and only with a signal known as a "point-by." We are, however, considering competition events in the near future.

You will receive some instruction while you're there. That instruction often comes in the form of how to safely enjoy yourself, rather than how to drive at the limit. Think etiquette, how to learn a driving line, passing zones, and general techniques, which may allow you to move from a novice to intermediate or advanced groupings, as you feel comfortable.
The schedule will be released closer to the event date as we balance five groups. Our typical start time is 6:30am for registration with an end time close to 4pm, but is subject to change.
Other relevant information:
Please, limit to drivers and essential crew only on-site. No spectators or ride-alongs unless it is your paid co-driver sharing a household.
The most convenient place to stay overnight prior/after the event is the ON-SITE CABINS!
Chuckwalla Raceway does serve/sell hot lunches/snacks/drinks on-site. Please pack accordingly.
CaliPhotography will be on-site to take professional photos!
No transponders will be available for this event.
ALL GROUPS ARE POINT-BY ONLY
Advanced Group - Open passing with point-by, no passing on 1st lap, all sessions
Intermediate Group - Point-by passing on straights only, no passing on 1st lap, all sessions.
Early-Intermediate Group - Passing on straights only, no passing on 1st lap, all sessions.
Novice Group - Passing only as directed by lead instructor (dependent on group dynamics, expect front and back straights).
San Diego Region SCCA Track Day (4/24/21 and 4/25/21)

Chuckwalla Valley Raceway

Start Time

Activity

Notes

24 hours/day

Gates Open

6:30am

Registration Opens

Face coverings and Social Distancing Required

MANDATORY DRIVER MEETINGS

Tent at Chuckwalla Valley Raceway

7:00am

All Drivers Meeting

Face coverings and Social Distancing Required

8:00am

Novice - Early Intermediate Drivers Meeting

Meet at tent. Face coverings and Social Distancing Required

8:55am, 10:15am, 11:55am

Novice Download Meetings (Required)

These three meetings take place during the Intermediate Run Group and are mandatory for all Novice Drivers

TRACK SESSIONS

Point-by passing only, ALL SESSIONS

7:30am

Advanced Group (20 min)

Open passing with point-by, no passing on 1st lap, all sessions

7:55am

Group 2 (20 min)

Groups 2-4 will contain Intermediate and Early-Intermediate Groups, along with one overflow group.

8:20am

Group 3 (20 min)

"

8:45am

Group 4 (20 min)

"

9:10am

Novice Group (20 min) w/ lead-follow

Passing only as directed by lead instructor.

9:35am

Advanced Group (20 min)

Open passing with point-by, no passing on 1st lap, all sessions

10:00am

Group 2 (20 min)

Groups 2-4 will contain Intermediate and Early-Intermediate Groups, along with one overflow group.

10:25am

Group 3 (20 min)

"

10:50am

Group 4 (20 min)

"

11:15am

Novice Group (20 min)

Passing only as directed by lead instructor.

11:40am

Advanced Group (20 min)

Open passing with point-by, no passing on 1st lap, all sessions

12:05pm

Group 2 (20 min)

Groups 2-4 will contain Intermediate and Early-Intermediate Groups, along with one overflow group.

12:30pm

Group 3 (20 min)

"

12:55pm

Group 4 (20 min)

"

1:20pm

Novice Group (20 min)

Passing only as directed by lead instructor.

1:45pm

Advanced Group (20 min)

Open passing with point-by, no passing on 1st lap, all sessions

2:10pm

Group 2 (20 min)

Groups 2-4 will contain Intermediate and Early-Intermediate Groups, along with one overflow group.

2:35pm

Group 3 (20 min)

"

3:00pm

Group 4 (20 min)

"

3:30pm

Novice Group (20 min)

Passing only as directed by lead instructor.

3:50pm

Track is closed
(Schedule subject to change based on conditions and event chair discretion)